Explore the Structural Biology of Viruses
10/31
A new PDB-101 feature explores how insights provided by structural biology are used to develop new defenses against viral infection.
Viruses are a major threat to global health. Historically, pandemics of influenza, polio, smallpox and many other viruses have spread through populations numerous times, killing millions of people. Today, with our continually growing understanding of virus structure and biology, we have many tools to fight viral infection. Antiviral drugs block key viral proteins, preventing their replication and spread, and vaccines prime our immune system to make us ready for future exposure to common viruses.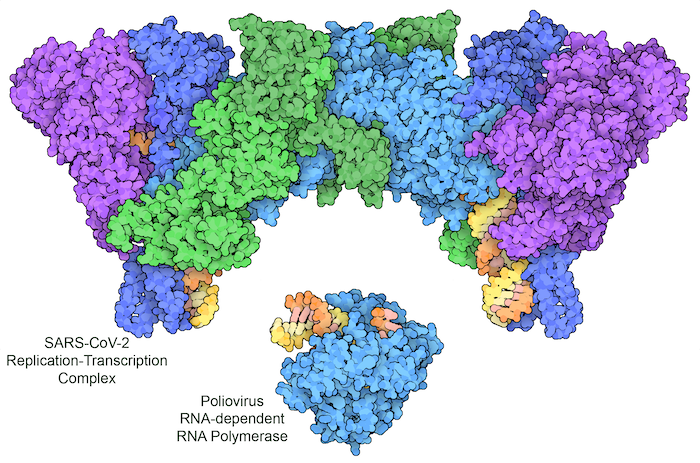 Poliovirus uses a single protein to replicate its RNA genome (bottom, with RNA template strand in orange and new RNA strand in yellow). SARS-CoV-2 encodes a multipart complex, including a polymerase (turquoise) and helper proteins (darker blue), a helicase (purple), and a proofreading enzyme (green), which together replicate the RNA genome and add a characteristic cap group to the end of some copies to make a messenger RNA. PDB ID 3ol8 and 7egq.